Are The Benefits of the Paperless Office REALLY Beneficial?
Of course the paperless is on the rise, not because of environmental and 'green' concerns, but simply because technology has evolved in a such a way that it's far more efficient and quicker to conduct business electronically.
In the same way that we have left behind written postcards and letters for email and text, we have naturally shifted to electronic documents and business interactions.
It's just evolution, baby.
That being said, there's a difference between naturally adopting a paperless system and suddenly making the big switch. You may be in for a bit of a surprise…


The Benefits of Going Paperless
At a first glance, the benefits of the paperless office are plentiful:
Easy Storage
With a digital document management system in place, all documents coming into the office can be scanned and stored electronically, making it easier for anybody to gain access if needed, and saving you a bunch of space in the office by getting rid of all those bulky filing cabinets.
Eco-friendly
Of course, using less paper and producing less waste is something environmentalists everywhere are celebrating about. "It takes a day to cut down a single tree, but years to grow it".
Automatic audit trail
Nowadays, businesses need to keep a record of everything. Digital offices allow for unlimited storage of data, with auto-generated audit trails.
Cost Saving
A lot of time is wasted with employees rifling through documents in filing cabinets and storage rooms – and we all know that time is money. What's more, printer ink costs far more drop for drop than fine Champagne!
Security
Even a locked filing cabinet is vulnerable to being broken into. In a paperless office, it is possible to add several levels of security to keep sensitive material safe from prying eyes.


But It's Not All What It Seems
As we start to look at these 'advantages' in more detail, I'm not convinced they're that advantageous after all.
Easy Storage Slightly Easier Storage
Yes, storing data and documents electronically takes up a LOT less space than hard-copies.
BUT
It's not life-changing. We've been keeping files and documents stored in filing cabinets and storage rooms for years, without many problems.
And Speaking of that, what are we going to do with all of that old documentation we've got all stored up? Scanning them into an electronic format would use up a lot of time and effort – is it really worth it?
[No more] Eco-friendly [than alternatives]
You don't have to be paperless to be eco-friendly. Shred and recycle your paper waste if you are looking to make your office greener.
Automatic audit trail
Okay, I'll admit it, this one is a true benefit of the paperless office.
Cost Saving Costly
Critics of the paperless system are quick to remind us that fully-electronic systems can be disrupted and compromised by system bugs and hardware defects. If you don't already have an IT whizz-kid at your disposal, you'll most definitely need to invest in one to maintain the software and hardware on a regular basis – this kind of offsets the cost-saving advantage right from the off.
Security
Okay, I'll give you that one. Electronic documents really are more secure than hard-copies.
However it is, in fact, harder to delete documents. Erasing a file does not guarantee that it can't be retrieved by another person at a later date, especially over a shared network.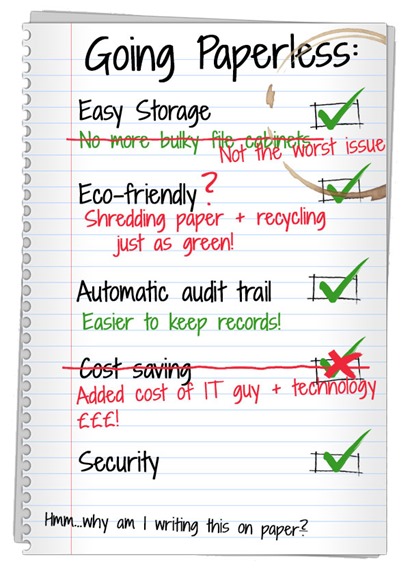 Conclusion
Hopefully you're getting my point by now, which is not to take things at face value. A paperless system is naturally evolving in the workplace – and that's great.
But there's no need to make a point of going paperless. If you read a little bit more into the finer details than you can see it's not as easy and as beneficial as it's cracked up to be.
And don't think you need to go paperless to appear "modern" and "innovative" – that's just silly.
I'd like to hear your thoughts on this one; has your office gone paperless? Do you think it's great? Or are you experiencing issues? Comment below!