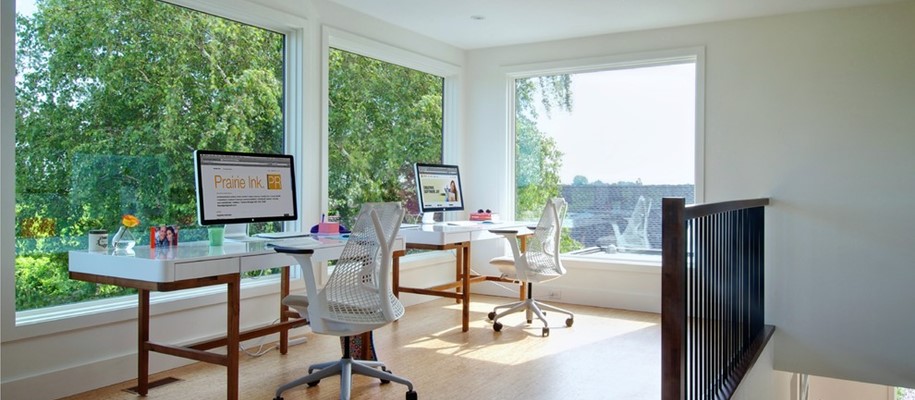 A History of Office Chairs
The first recorded instance of a chair being specially adapted to the needs of the office worker dates back to 1849. The Centripetal Spring Armchair, a cast iron and velvet design created for the American Chair Company by designer Thomas E Warren, was prompted by the upsurge of clerical and managerial jobs created by the railways. It had many of the features that we still expect from today's office chairs, including a swivelling seat, castors for ease of movement and a supportive headrest. It also had a form of suspension – the seat was housed on a strong spring designed to absorb some of the movement caused by the trains. It was not only practical but aesthetically pleasing in red and gold velvet.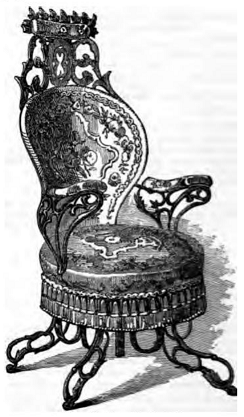 Image courtesy of Wikipedia creative commons
The original Singer chairs were designed by John Singer Sargent to be used with his revolutionary new invention, the sewing machine. These chairs looked far more basic than the Centripetal, but served their particular purpose equally well. Generally made of wood on a metal base, these chairs allowed the user to swivel, but had little functionality beyond that.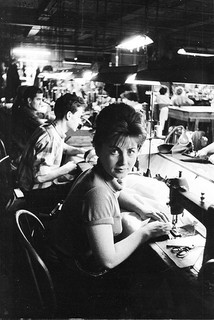 Image courtesy of Kheel Center, Cornell University via Flickr creative commons
By the fifties office chairs were a little more comfortable than the Singer, but not much had changed in terms of design features. Although the most common chairs had padded leather cushions on the seat and back rather than hard bare wood, the only real features were the swivel and the castors.
By the seventies people were starting to recognise that sitting in an office all day was not good for them. Back problems were rife, and a solution was needed. Enter ergonomics – the study of the human form and how to alter things around us to better suit our bodies' needs. Chair design suddenly became a scientific rather than business concern, and in 1976 the Ergon led the way for ergonomically designed chairs. Years of research had yielded information about how our backs need support when we are sitting, and now there were chairs that would provide it for us.
The original Aeron was released in 1994 by design company Herman Miller. It introduced a revolutionary new fabric to the world of office chairs – Pellicle mesh. This fabric allowed the air to circulate through the chair, letting workers' skin breathe and keeping them cool. Not only that, but it looked fantastic; a futuristic vision in mesh and chrome. The iconic design is still revered today and seen as a symbol of status and power.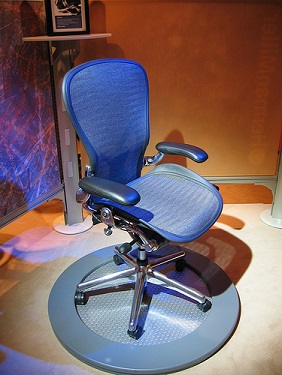 Herman Miller Aeron Chair image courtesy of Richard Stowey via Flickr creative commons
The latest wave of must-have office chairs are not chairs at all, but alternatives designed to promote what has been coined 'active sitting'. Things such as over-sized exercise balls, saddle chairs and perch stools are all being used across the globe as a healthier alternative to sitting still. These seats keep the core muscles gently active throughout the day, relieving tension and preventing spine compaction.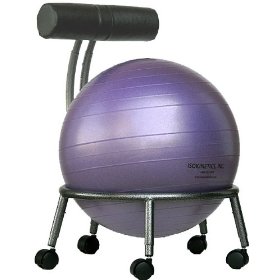 Image courtesy of willspot via Flickr creative commons