The Ergonomics of a Chair Explained
You may or may not be aware of the serious health implications of prolonged sitting, and why this is a cause for concern for all of us who spend 30+ hours sitting at our work desks every single week.
Sitting down causes a number of stresses in our bodies, especially our spines, and this has recently begun to be more recognised by health professionals and is the main reason for the sudden boom of ergonomic office chairs.
What does the term 'Ergonomic' mean?
Ergonomics is a science, also known as human engineering or biotechnology.  The discipline involves looking at how objects can be designed and/or arranged to best compliment easy and safe human interaction.
An ergonomic chair, for example, is a chair that has been designed to best support the human body, including considerations like posture, comfort, support and health.
What makes a chair 'Ergonomic'?
Ergonomic office chairs have a number of features designed to improve your posture and offer correct support, but they only do half the job – To truly feel the benefits of an ergonomic chair, you should first learn how to sit properly: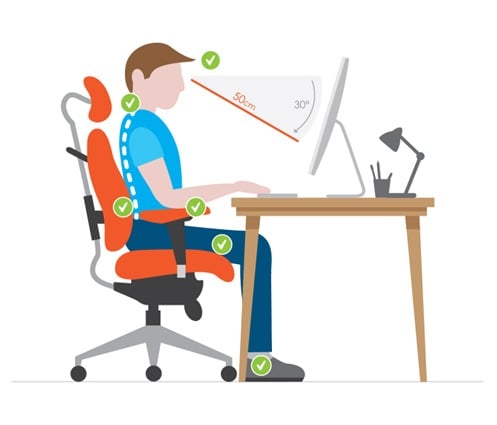 Keep an arm's length away from your computer screen. Ideally, the top of the monitor should be level with your eyes.
 Sit up straight and avoid slouching. Your neck should be in a relaxed and neutral position.
 Keep your arms parallel to the floor
 Sit with both feet flat on the floor, and avoid crossing your legs. This is to allow correct blood circulation within your legs.
A good ergonomic chair will be adjustable, to allow for better control and customised settings. Adjustability is especially important if you are buying chairs that will be used by different users. If you are buying a chair for your home office, or for one person specifically, consider using their body dimensions for a greater 'fit'. Tall people will have different needs when compared to people who are shorter, for example.
Buy Your Ergonomic Chair Today!