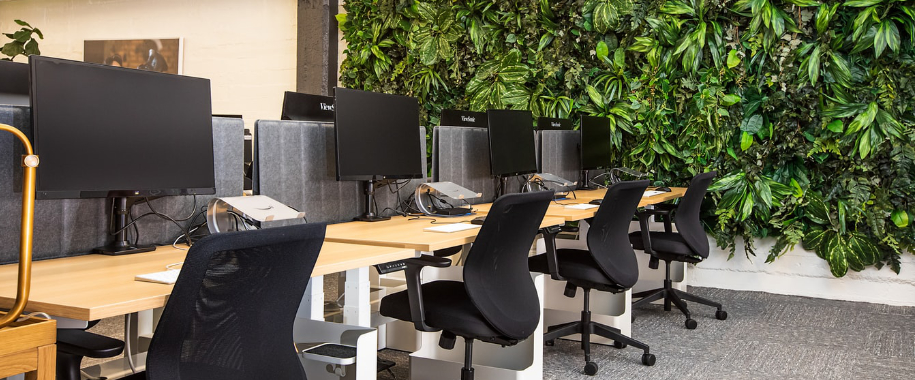 Best Office Chairs for Back Pain 2023
Contents
Explore our recommendations for the best Office Chairs for bad backs by using the links below.
Living with back pain is a daily struggle so it's important to make sure we look after our back. As a society, we are sitting more than ever before. Sitting has been classed as "the new smoking", but for many of us sitting less isn't an option.
Many of us have office jobs where we are required to sit at a desk to complete our work. It isn't all doom and gloom though. Where there's a problem, there's a solution. 
You would agree that sitting on a wooden dining chair for 8 hours a day would be bad for your health, right? So having the right office chair (as well as sitting correctly) can do wonders for our overall health and help mitigate the effects of prolonged sitting.
Ergonomics is a science-based discipline that combines knowledge from subjects such as anatomy and physiology, psychology, engineering and statistics to produce a product that is specifically designed to cater to the person using it.
That's where Ergonomic Office Chairs come in to play. They have been designed specifically for prolonged sitting in such places as business offices, and aim to provide comfort and support throughout the entire day.
Our goal at ChairOffice is to provide you with the very best office furniture, and we have personally tested all of our chairs to make sure they meet the very high standards we set ourselves.
Below is a list of the 5 best office chairs for back pain 2023, an honest recommendation from us at ChairOffice.
Esme Ergonomic Fabric Office Chair
A titan among Ergonomic Office Chairs. The Esme is one of the best bang for your buck kind of office chairs. Labelled as a true 24-hour use intensive chair, the Esme will have you sitting comfortably throughout your working day.
Available in black or blue fabric, the Esme features a ratchet height adjustable backrest along with height adjustable arms to enable you to find the perfect position for your body.
While this chair doesn't feature an independent headrest which some users may find helpful, it still has a headrest built into the back of the chair itself.

The backrest has been sculptured to form into the natural curvature of a human spine and the seat features a knee tilt function to help aid in proper blood circulation. This particular ergonomic office chair has been tested up to 28 stone in weight.
ChairOffice Rating

Venus Ergonomic Padded Office Chair
This deeply padded ergonomic office chair adds a tone of value and while similar to the Esme, the Venus just does that little bit extra. The independent headrest enables you to tailor the position perfectly for your body.
Each Venus features a 2-year component guarantee and is specifically built for 24-hour use.
The Venus is so flexible with its functions that it can comfortably sit a plethora of different sized users (from five feet to six feet eight inches tall).
Adjust the backrest to recline and lock into any position you desire and tailor the arm rest height to suit you and your desk height. This office chair, just like the Esme, has been tested up to 28 stone in weight.
ChairOffice Rating

Ergo Posture High Back Office Chair
The Ergo Posture High Back, approved by a UK chiropractic doctor, is a huge hit with our customers.
Each Ergo Posture comes with a 5-year component guarantee and features independent back height adjustment, seat height adjustment, knee tilt, headrest and arm height adjustment.
The backrest with its ratchet mechanism is fitted with an adjustable lumbar pump to ensure that contoured support is given to the small of your back where you need it most.
The three lever mechanism enables personalised adjustment allowing you to get the very best out of this office chair. Once again this chair is suitable for a 24 working environment and has been tested up to 27 stone.
Available in 9 fantastic coloured fabrics - enough to help you find your perfect office chair.

Chachi Ergonomic Mesh Chair
The Chachi is our first mesh office chair on this list. Ideal for users who wish to stay cooler while they work due to the mesh material helping airflow circulation.
The mesh material is designed for those who spend long periods in the office chairs and can mould to your body shape, giving you the ultimate in comfort.
The Chachi features a synchronized tilt reclining backrest that is lockable in any position, and the full contact sprung pronounced lumbar support helps give your back the support where it needs it most.
The backrest and headrest is contoured to give your upper back and neck the right support for long hours of sitting.
On the underside of the seat, you'll find a wind-up tension control, giving you the ability to increase or decrease the force needed to tilt the chair.
Perfect for a 24-hour use environment and the Chachi Ergonomic Mesh Chair has been tested up to 25 stone in weight.
ChairOffice Rating

Chiro Plus Fabric Ergonomic Office Chair
The Chiro Plus is something of an employee favourite here at the ChairOffice HQ. Our entire team sits in this chair and we've never had any issues with it.
Also approved by a UK Chiropractic doctor, the Chiro Plus is an exceptional office chair for those with back pain or those who wish to minimise the effect sitting has on our backs and health in general.
The backrest is fully adjustable in height and features contoured lumbar cushioning. This office chair is suitable for users between five feet and six feet six inches tall.
The headrest is also height and tilt adjustable, allowing you to position in it such a way that it gives your neck and shoulders the support it needs.
The seat slide enables you to choose the depth of the chair to your liking, and the seat itself has a waterfall front to help give support behind your knees.
The armrests adjust in height, width and pivot, giving you the ultimate freedom in office chair comfort.
Suitable again for a 24-hour working environment and the heavy-duty gas strut has been tested up to 27 stone.
ChairOffice Rating