How To Decorate Your Office or Desk for Halloween
After Christmas, Halloween is perhaps the most festive time of year. The emphasis on eating lots of sweets and dressing up in creative, scary or just plain silly costumes adds a childlike air of frivolity to the occasion. Bringing Halloween into the workplace is not only fun, it can encourage higher levels of camaraderie and team spirit that may need a boost after the busy summer months. Decorating your office space for Halloween shows colleagues that you are up for a bit of a laugh without breaking the bank.

Toolkit image courtesy of Blue Stone Graphics via Flickr creative commons
Balloons/Streamers
The sight of balloons or streamers always gets people into the party spirit. From around August onwards there are many shops selling packs of Halloween appropriate accessories that can be used to decorate any space, and for very little cost. Black and orange are of course the colours du jour, so grab a few packs and create your very own spooky cubicle.
Lanterns
For the more artistic among us, carving a Halloween pumpkin can be a rewarding experience. To make it more work friendly, why not try carving your company logo into the face? No boss is going to dismiss such an obvious display of commitment to the cause (or sucking up!), and the flickering candlelight pervades the air with a pleasingly Gothic atmosphere.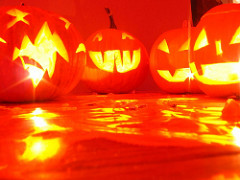 Toolkit image courtesy of hanna_horwarth via Flickr creative commons
Costumes
You may need to check with your superiors as to the plausibility of arriving at work in costume, but if you can then go for it! It makes sense for most of the year to dress for success at the office, but allowing yourself or your employees the odd occasion throughout the year to let their hair down provides a much needed release of tension. You could award prizes throughout the day for the most creative home-made costume, the scariest, the most ridiculous and more.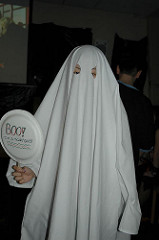 Toolkit image courtesy of abbynormy via Flickr creative commons
Inflatables/Models
Blow up ghosts, witches and devils abound at this time of year – bring one in to sit on your desk, hang from the office door or even save your seat for you in a meeting. Imagine the look on your boss's face when he sticks his head round the door at lunch time only to see twenty office chairs full of ghouls, goblins and ghosts! If you feel this may be going a little too far for your particular place of work, just bring in smaller desktop models of creatures of the night and place them where you can see them to make you smile throughout the day.
Trick or Treat
The best part of Halloween for children and adults alike is the tacit permission granted to gorge oneself on sweets all day long. Bring in a basket of goodies and leave them out for co-workers to help themselves to, and you will be the most popular person in the office.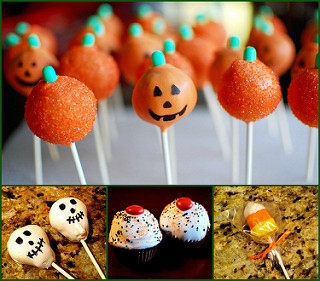 Toolkit image courtesy of Jamiesrabbits via Flickr creative commons