Whether you work from home, in a private office, in a cubicle or a large open plan office with many others, it is important that the space you have works for you. Choosing the right equipment and organising your area efficiently are key elements to maintaining a high level of productivity.
The first things to consider are office chairs. Generally, office workers spend a large portion of their day sitting in a chair, and it is therefore vital to make sure your chair gives you the support you need. Cost should not be an issue when it comes to taking care of your long term health.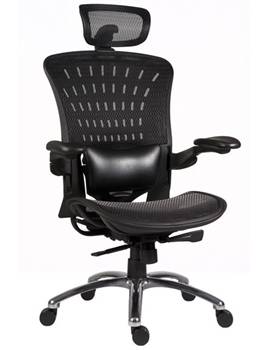 If you are self-employed, work out how many hours per day you plan to spend sitting on average. Next; factor in that most chairs have a minimum three year guarantee. Multiply those numbers together and divide the answer by the cost of the chair you think you should buy. Even buying a chair from the top end of the market will work out at just a few pence for every hour you use it. Employers need to think about the fact that, in the UK, over £600 million is lost every year due to employees taking time off sick with back problems.
Once you have the right chair you need to correctly adjust it to suit your height and build. This should be done away from the desk, as you are creating the perfect chair for you and not for desk height. Alter the seat height, back rest and arm rests until you are happy they are supporting you correctly.
After this, bring the chair over to the desk and sit in it. Is the desk too low or too high to comfortably type? If so, do not adjust the chair. If the desk is too low, invest in some inexpensive raisers. If it is too high, you may need to raise the height of your chair, but do so only after purchasing a footrest.
When seated at your desk, your eye-line should be level with the top of your computer monitor. This prevents putting the additional strain on your neck that occurs when you have to move your head up and down to read. A monitor can easily be elevated, but neck pain is very tricky to eradicate.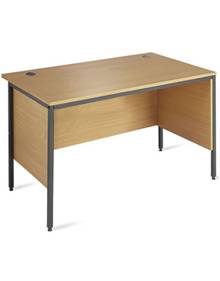 Lighting is an essential consideration in any workspace, especially if you are required to stare at a screen for large portions of the day. The more natural lighting you have the better, although this is not always possible, especially in home offices. It is vital that your work area is well-lit at all times to avoid eye strain, but also that there is no glare from the screen. Having lighting options that can be altered is the best solution. Working near a window, with full coverage overhead lighting and a desk or floor lamp in your workstation gives you the option to change the lighting according to the time of day.